Meet Your Captain!
Dean received his captain's license in 1996 and has been fishing Block Island Sound and Rhode Island waters commercially ever since. His experience and knowledge will help you catch whatever fish you target on your trip. You'll catch fish, have fun and create memories that will last a lifetime!
Enjoy reeling in Striped Bass, Black Sea Bass, Fluke, Bluefish, Scup, Cod and many other species found in our waters.
"Twentyfive" is a custom-built Downeaster built in 2015 by Flowers Boat Works, Inc. It is powered by the reliable Caterpillar C-9 diesel. It is equipped with heat and air conditioning and has plenty of space for your party. Fully licensed and insured. Inspected annually for safety by the U.S.C.G.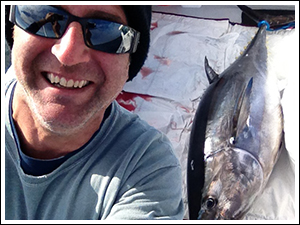 We launch from Jim's Dock located at 1175 Succotash Road in
Narragansett, RI 02879.
We Catch Fish!, We Have Fun!